Open House Sunday, October 6, 2019
11 Old Hawleyville Rd Bethel CT 06801
Stop by this Sunday 10/6/19 to preview this 20+ acre gem (potential subdivision or horse property). Just reduced $54,000. Preview hours from 12-2pm! Can't make it? Call 203-733-1613 to schedule a private showing.  3D Tour ▷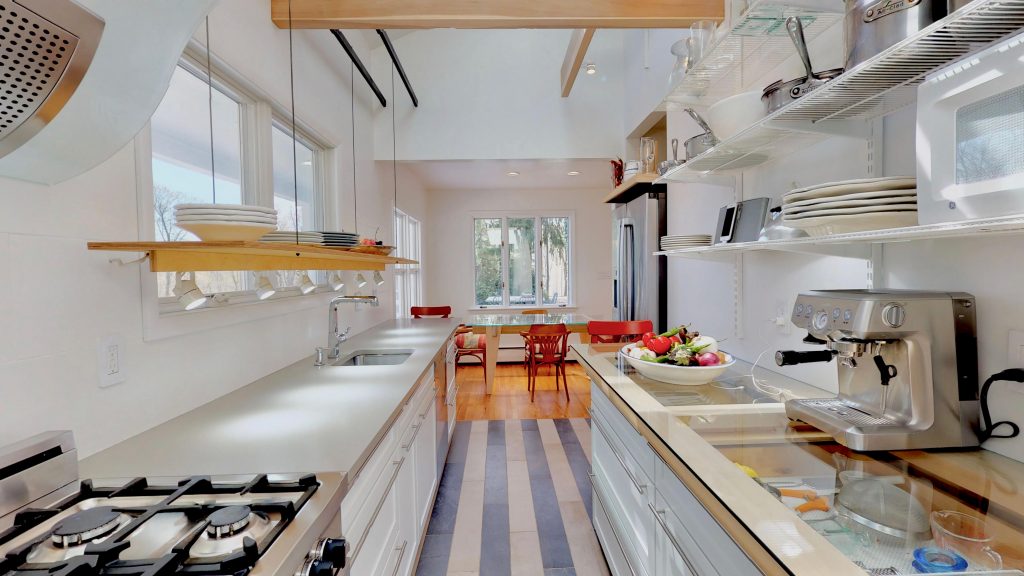 WITZIG is a gem 6 minutes from the vibrant center of P.T. Barnum's town of Bethel. The property is a 21 acre square block with a perimeter of approximately 3/4 of a mile. Enough room for a 3 hole golf course, sculpture park, miles of mountain bike track, spectacular garden, wildlife eco-system or a combination of. Potential for equestrian, llama or goat farm (non commercial use). All easy access to express ways and trains to New York City, Stamford and Boston. The entrance to WITZIG HOUSE is via a 120 yard driveway that sweeps 40 year old rhododendrons. Some over 15 feet high. The interior of WITZIG HOUSE has an international ambience. It was renovated by notable designer Kerry Landon-Lane of WITZIG FACTORY. Design finesse and craftsmanship are present throughout the home. There is articulate use of glass, steel, wood, stone and porcelain. The original oak floors have all been refurbished and the kitchen sports an Italian range and hood, German refrigerator and dishwasher, Bauhaus design hardware, plate glass counters and more. The house breathes and light washes unhindered through big windows, skylights and the semi open floor plan. The lower floor includes a studio with its own entrance, kitchen and beautiful checkered porcelain floor. A perfect accommodation for guests, in-laws, office or art studio. The park like property is punctuated by mature oak, maple, dogwood, cottonwood, cherry and evergreen trees. A brook transverses the property and there is a private pond.
Offered by Lisa Brown, REALTOR®
The Brokerage of New England
203-733-1613
www.BrokerageNE.com
11 Old Hawleyville Rd Bethel CT 06801
We just took $54,000 off of this amazing 20+ acre property.
WITZIG is a gem 6 minutes from the vibrant center of P.T. Barnum's town of Bethel. The property is a 21 acre square block with a perimeter of approximately 3/4 of a mile. Enough room for a 3 hole golf course, sculpture park, miles of mountain bike track, spectacular garden, wildlife eco-system or a combination of. Potential for equestrian, llama or goat farm (non commercial use). All easy access to express ways and trains to New York City, Stamford and Boston. The entrance to WITZIG HOUSE is via a 120 yard driveway that sweeps 40 year old rhododendrons. Some over 15 feet high. The interior of WITZIG HOUSE has an international ambience. It was renovated by notable designer Kerry Landon-Lane of WITZIG FACTORY. Design finesse and craftsmanship are present throughout the home. There is articulate use of glass, steel, wood, stone and porcelain. The original oak floors have all been refurbished and the kitchen sports an Italian range and hood, German refrigerator and dishwasher, Bauhaus design hardware, plate glass counters and more. The house breathes and light washes unhindered through big windows, skylights and the semi open floor plan. The lower floor includes a studio with its own entrance, kitchen and beautiful checkered porcelain floor. A perfect accommodation for guests, in-laws, office or art studio. The park like property is punctuated by mature oak, maple, dogwood, cottonwood, cherry and evergreen trees. A brook transverses the property and there is a private pond. 3D Tour ▷
Lisa Brown, REALTOR®
The Brokerage of New England
203-733-1613
www.BrokerageNE.com